CORONAVIRUS (COVID-19) TESTING INFORMATION FOR SCHOOLS
SPECIFIC GUIDANCE ON TESTING AND QUARANTINE CAN BE FOUND ON THIS RIDOH WEBSITE LINK
Dear Families,
The RIDOH has developed a COVID-19 Testing Program specifically to provide testing services for Rhode Island PreK-12 public and private school students, faculty and staff which began Monday, September 14, 2020.
The service line is only for PreK-12 students, faculty and staff who have symptoms, have been identified as a close contact of a positive case, or are a classmate of a positive case. Services are available in multiple languages.
HERE is the list of testing sites for PreK-12 Rhode Island students, faculty and staff.
Anyone who has COVID-19 symptoms will get two tests. The first test is a rapid test. The results of this test will be available before the end of the day. The second test is called a PCR test. This test result will be available in 2 days (48 hours).
Individuals tested must remain quarantined until both test results are available and confirmed negative prior to returning to school. Household contacts must also quarantine during this time and cannot attend school.
TO SCHEDULE A TEST, CALL THE PREK-12 COVID-19 TEST SCHEDULING SERVICE AT 844-857-1814, SEVEN DAYS A WEEK FROM 7:30AM - 9:30PM.
If your child becomes ill it is important you reach out to the school nurse to report specific symptoms, and notify if being tested for COVID-19. If this occurs outside of school hours, or over the weekend, please email the school nurse at the above email address on this page. Communication is important as we are working with the RIDOH to ensure contact tracing if there is a positive case in the district.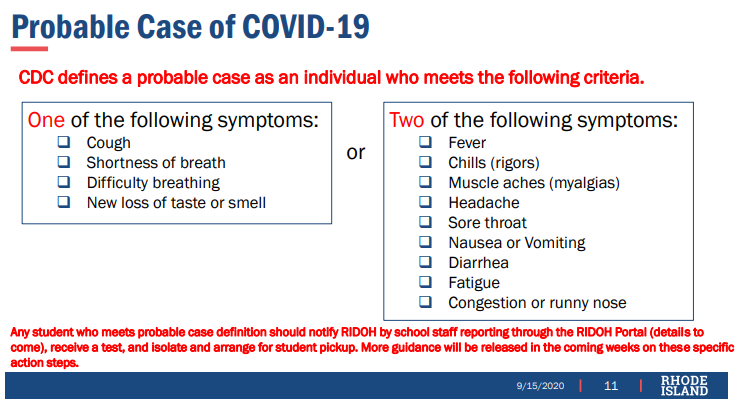 IN KEEPING WITH OUTBREAK RESPONSE PROTOCOLS SET BY THE STATE OF RHODE ISLAND, PLEASE FOLLOW THE INSTRUCTIONS PROVIDED IN THE SUMMARY BELOW.
SPEAK WITH THE SCHOOL NURSE IF YOU HAVE ANY QUESTIONS.